Google Pay is a fairly new transaction method, which emerged from Google Wallet and Android Pay in 2018.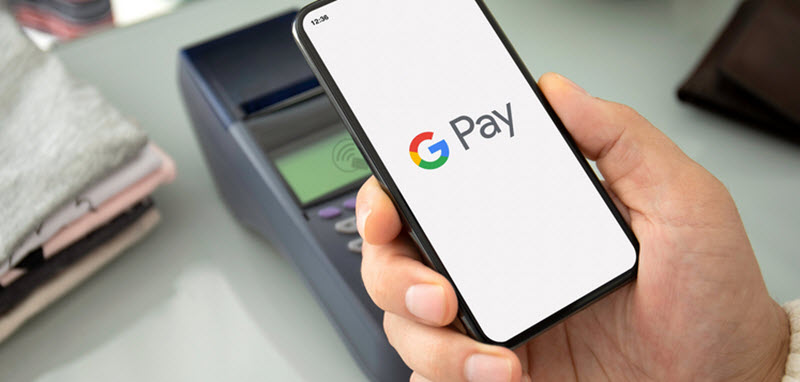 When it comes to online casinos, Google Pay can be used for deposits but not for withdrawals. Still, it has become quite popular since it allows a gambler to make a casino deposit using their selected transaction method (e.g. credit or debit card) without disclosing sensitive card information to the recipient. Google Pay acts as an intermediary, and sensitive information is shared with Google Pay instead of being sent to the casino.
One of the main competitors is Apple Pay, which works in a very similar manner and also only allow casino deposits – not withdrawals. The number of online casinos that allow you to deposit money using Google Pay or Apple Pay are still quite few. Within the online gambling environment, older intermediaries such as Skrill and Neteller are much more commonly accepted.
Exempels of online casinos that do accept Google Pay are Gate777, Voodoo Dreams Casino and ATHI Games.
Do I need a mobile device to use Google Pay?
No, Google Pay works with desktop computers too. You can use a stationary computer, a laptop, a smartphone or a tablet.
Do I need an Android mobile device to use Google Pay?
No, that is not required. There are Google Pay mobile apps available for both iOS and Android. (As mentioned above, you can also use Google Pay from a normal computer, a mobile device is not required.)
– The Google Pay app for Android is available in the Google Play store.
– The Google Pay app for iOS is available in the Apple App store.
Getting started with Google Pay
You need a Google Account to use Google Pay, so if you don´t already have one, the first step is to create one. Creating and using a Google Account is free.
Once you have a Google Account, go to pay.google.com and sign in using your Google Account credentials.
When you are logged in at pay.google.com, follow the on-screen instructions for getting started with Google Pay. You will be asked to add a payment method, such as a credit card. You can add several payment methods if you want to and use them all through Google Pay.
I have downloaded the mobile app
If you have downloaded the Google Pay app to your mobile device, simply open it and follow the on-screen instructions to get started with Google Pay.
How to use Google Pay in an online casino
First, make sure the casino accepts Google Pay. Also, we would like to remind you that Google Pay can only be used for deposits and not for withdrawals from your casino account.
1.) Make sure you are logged into your casino account.
2.) Go to the banking (cashier) section.
3.) Select DEPOSIT and then select Google Pay as your deposit metod.
4.) Follow the on-screen instructions. You will be asked to select payment method (one of the payment methods you have associated with Google Pay) and enter the amount you wish to deposit.
5.) Use Google Pay to confirm the transaction. You will need to use one of the approved identifications methods for Google Pay, such as security code or touch-ID.
Conclusion
Using Google Pay is convenient since you can add multiple credit cards and use one safe and simple solution to confirm your transactions, both online and offline.
For online casino players, it is negative that Google Pay can only be used for deposits and not for withdrawals. Still, many users like the ability to make deposits without sharing credit card info with the online casino. It should be noted that Google Pay is not the only way to achieve this; you can for instance use PayPal, Skrill, Neteller or Apple Pay to deposit from a credit card without sending credit card info to the casino.
It is positive that Google Pay isn´t for Android devices only; you can use it on an ordinary computer or download an app for your iOS mobile device. If your next mobile device happens to be an iOS device, you can still use your old Google Pay account, so you are not "locked-in" with a specific operative system.