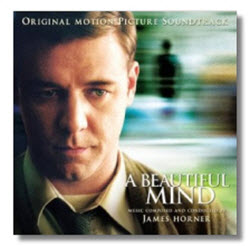 The original soundtrack album for the movie A Beautiful Mind was released on the Decca Records label on 11 December, 2001. The movie itself had a limited release in cimenas in the United States on 21 December, followed by a wider release in early January 2002.
The original score and songs were composed and conducted by U.S. composer James Horner, and Horner was also the producer together with Simon Rhodes. The choice of composer James Horner was un unsurprising one, since he had already collaborated with the director Ron Howard before, e.g. for the 1985 sci-fi comedy Cocoon, and for Apollo 13, a 1995 space docudrama starring Tom Hanks, Kevin Bacon, Bill Paxton, Gary Sinise, and Ed Harris.
Horner wrote certain parts of the score specifically to be performed by the then 15-year-old Welsh singer Charlotte Church. In an interview, he explained that he wanted the score to feature vocals reminiscent of being midway between a girl and a woman.
Track listing
| | |
| --- | --- |
| No. | Title |
| 1 | "A Kaleidoscope of Mathematics" |
| 2 | "Playing a Game of 'Go!'" |
| 3 | "Looking for the Next Great Idea" |
| 4 | "Creating 'Governing Dynamics'" |
| 5 | "Cracking the Russian Codes" |
| 6 | "Nash Descends into Parcher's World" |
| 7 | "First Drop-Off, First Kiss" |
| 8 | "The Car Chase" |
| 9 | "Alicia Discovers Nash's Dark World" |
| 10 | "Real or Imagined?" |
| 11 | "Of One Heart, of One Mind" |
| 12 | "Saying Goodbye to Those You So Love" |
| 13 | "Teaching Mathematics Again" |
| 14 | "The Prize of One's Life… The Prize of One's Mind" |
| 15 | "All Love Can Be" (Charlotte Church) |
| 16 | "Closing Credits" |
Reception
Dan Goldwasser
Dan Goldwasser, writing for Soundtrack.net, said the score fit the film, and worked well there, but ultimately wasn't special enough to stand out. He found the music a bit too familiar, and pointed out similarities to the score created by Horner for the 1999 film Bicentennial Man.
Andy Trudeau
Trudeau, contributing to National Public Radio, praised how Charlotte Church's particular voice added a human element. "It's the sound that, I think, gives a sense of–the center of this character, if you will. I think it's the soul. And it's trying to be normal in a way, and underneath it it's trying to be crazy."
Danny Graydon
Writing for the Empire Magazine, Danny Graydon brought up similarities between this soundtrack and that of those created by Horner for the films Sneakers (1992) and Bicentennial Man (1999), but still gave the album four out of five stars, calling it a "clever, masterful and romantic score that captures a brilliant mind in conflict."
Just like Trudeau, he praised Charlotte Church's performance, adding that he wished for her voice to have been used more in the movie.
Awards and nominations
Nomination: Academy Award for Best Original Score
A Beautiful Mind was nominated, but the award ultimately went to the soundtrack for The Lord of the Rings: The Fellowship of the Ring.
Nomination: Golden Globe Award for Best Original Score
A Beautiful Mind was nominated, but the award ultimately went to the soundtrack for Moulin Rouge!.